Pneumology
There is a long-standing cooperation between the Lung Clinic Immenhausen (LKI) and Universitätsmedizin Göttingen (UMG). Examples for this clinical and scientific cooperation are the large Lung Cancer Centre, the joint research activities and teaching commitment.
A long standing focus of clinical research is cardiopulmonary interaction. For the first time, our group has demonstrated striking sympathetic activation in patients with COPD. Current research use heart rate in large COPD cohorts to evaluate neurohumoral activation. Joint projects are carried out with the Department of Cardiology and Pneumology and the Institute for Medical Statistics at the UMG.
The LKI has many years of expertise in the diagnosis and treatment of lung cancer. Immunotherapy is a research focus that is reflected in publications by PD Dr. med. Achim Rittmeyer (e. g. The Lancet). Cooperation within the Lung Cancer Centre and the Institute for Cellular & Molecular Immunology at the University of Göttingen encompasses cancer immunotherapy as well as smoking cessation.
As a partner of the German Centre for Lung Research (DZL) and the University Hospital Gießen / Marburg Lung Centre the (UGMLC) LKI is involved in the DZL focus areas COPD (COSYCONET study), interstitial lung diseases (RELIEF) and pulmonary hypertension (PASSION). The clinic operates a large study centre and is listed at clinicaltrials.gov with > 75 studies.
Patient care, clinical research, education, and teaching are complementary. As one of three lung clinics in Germany, LKI's continuing medical education was certified by the European Respiratory Society (ERS / EBAP).
Leiter Bereich Pneumologie (F&L)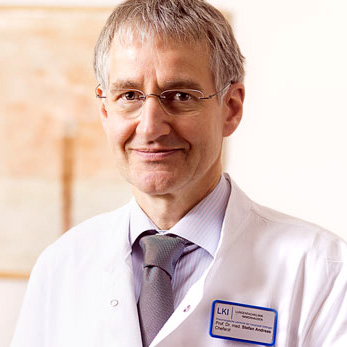 contact information
Facharzt für Innere Medizin, Pneumologie